Legendary Music
Welcome! This page is dedicated to different types of music and musical artists who have influenced many including the Kassinger Family. Scroll down to see biographys of some of Kentucky's famous musical artists. If you have an artist to submit related to the Kassinger/Kessinger families please e-mail me so I can add it to my page.


Music of Clark Kessinger


Music of Kessinger Brothers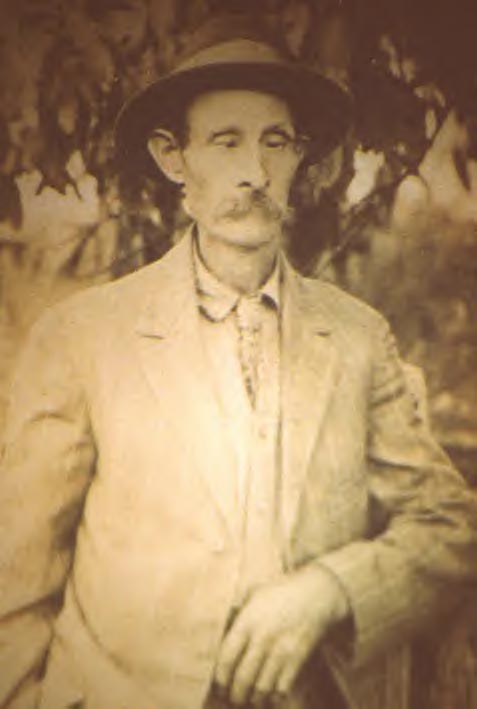 My Great Grandfather, Alfred Judson Daugherty, loved to whistle tunes. Everyone called him Jud Daugherty. The following was written about him in the 1997 Summer issue of Fiddler Magazine. An article called the Romance of the Kentucky Fiddler by Bruce Greene. A man by the name of Leonard Kessinger who lives in Morgantown in Butler County, Kentucky was being interviewed by the magazine. Here is what he had to say. "There was a fiddler I only spent one evening with in 1974, but who left me with an unforgettable memory of a man from another age, living as a stranger in modern times. Early in the spring of 1974, I would sit out on the porch of our house in Bowling Green, Kentucky, playing fiddle and guitar with my brother. Every couple of days, an elderly man would walk by and stop to listen a while. Finally, he introduced himself as Leonard Kessinger, and we stopped to visit with him. It turned out his father was a fiddler and he played guitar with him when he was a young man. So I arranged to go visit them at their homeplace in nearby Morgantown. Charlie Kessinger was born in 1883, in Butler County. He learned to play fiddle and banjo from his father, who was born in 1857, when that part of Kentucky was still barely settled. Charlie talked with great emotion about learning to play as a boy, and about the fiddlers he grew up around, all of whom he had long outlived.I learned first one tune, then another. And I used to be awful bad to whistle. All I had to do was hear them play. I'd get the tune and go to whistling it, and I learned it from my whistling. I was a wonderful whistler, but now I've got these old false teeth, I can't whistle at all with 'em. I played a tune for a long time before I knowed any name for it. My daddy caught it from an old cross-eyed man whistling it. And we always called it Jud Dougherty's Tune. That was the old man's name. One of my neighbors wanted us to bring my violin one night and play somewhere. I began to play that, and he began singing right after me, 'Down in New Orleans'. That was the name of it". "
My Brother Darrell Wayne Kassinger is one heck of a guitar player. He loves Merle Travis and was influenced by his style of Picking. My niece said that he used to play music and sang to her when she was a little girl. Two songs she remembers are:
This is a photo of Royce Kessinger's tombstone at Smith Cemetery in Hart County where he was a church member. I will add more later about Royce's musical background.

Popular Artists With Ties To Kentucky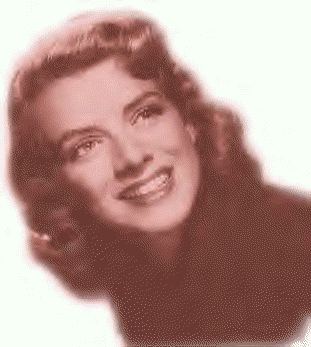 Rosemary Clooney's "Come On A My House"
Rosemary Clooney (Variety) Born May 23, 1928, in Maysville, Kentucky. The distinctively unpretentious, deep, rich, and smooth voice of Rosemary Clooney earned her recognition as one of America's premiere pop and jazz singers. In 1951 Clooney to recorded an oddball song, "Come On-a My House". She was highly skeptical, insisting the song was not her kind of material. She felt it was silly and demeaning; she believed the double-entendres were a cheap lyrical device and felt uncomfortable putting on an Italian accent. Much to her surprise, the song was an immediate and enormous success, topping the charts to become a gold record. "Come On-a My House" made Rosemary Clooney a star. Rosemary reprised the song in her first film, The Stars are Singing. Paramount hoped to turn Clooney into a movie star, but after Here Come The Girls, Red Garters, and White Christmas, she grew weary of Hollywood. Concentrating on television, Clooney headlined several network series, and also starred in her own 39-week syndicated variety show in 1955, which was distinguished by its offbeat guest-star lineup (including such non-musical celebs as Buster Keaton and Boris Karloff!) As her career began diminishing in the 1960s, her reliance upon alcohol increased, culminating in a highly publicized stay in a California psychiatric ward. Happily she recovered, successfully launching a whole new career on the concert stage as a jazz vocalist. In 1977, Clooney wrote a grimly revelatory autobiography, This For Rememberance, which was later adapted into a TV biopic starring Sondra Locke. Rosemary Clooney was for many years married to stage and film star Jose Ferrer; she is the mother of actor Miguel Ferrer, the sister of TV talk host Nick Clooney, and the aunt of TV's ER heartthrob George Clooney. A household name, she's known simply as "Rosie".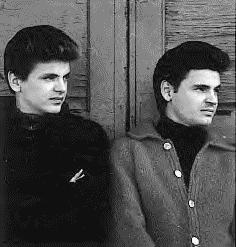 Everly Brother's "Little Suzie"
The Everly Brothers (Rock N Roll) Leonard, Charlie and Ike Everly could not read music so they played by ear. Music was their recreation as well as their communication. The three brothers soon became highly accomplished at playing guitar in a thumbpicking style that was common in Muhlenberg County. On August 31, 1935, at age 27, Ike Everly married the girl next door, Margaret Embry. Their first son, Isaac Donald, was born on February 1, 1937 in Brownie, Kentucky which was a little town about two miles east of Central City. Soon after Don's birth, the family moved to Chicago where a second son, Phillip, was born on January 19,1939. In 1945 Ike moved his family again when he joined the staff at radio station KMA in Shenandoah, Iowa. At the young ages of 8 and 6, Don and Phil began to perform on their parents' live radio show. By his example, Ike instilled in his two sons his own love for music. He encouraged them to sing and he taught them to play guitar.
Fast foreward twelve years and the release of "Bye Bye Love" sent The Everly Brothers spiraling towards stardom and, on May 11, 1957, the boys fulfilled a lifelong dream by appearing on the Grand Ole Opry at the Ryman Auditorium in Nashville. When they sang "Bye Bye Love", they got a huge ovation from the crowd of 4,000 and Roy Acuff had to call them back to take a bow. Their next hit, "Wake Up Little Susie", was recorded on August 16, 1957 and Don provided the song with a distinctive intro guitar hook. This time nothing would stop The Everlys from reaching the very top of the charts. "Wake Up Little Susie" hit #1 during the week of October 14th and it stayed # 1 for four weeks. "Bye Bye Love" began a string of 26 Top 40 singles for The Everly Brothers whose worldwide record sales have now topped 40 million.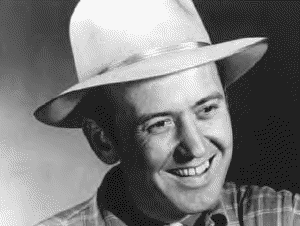 "Red" Foley (Country) Clyde Julian Foley was born June17, 1910, in a log cabin between Blue Lick and Berea, Kentucky and died September 19, 1968, Fort Wayne, Indiana, USA. The son of a fiddle player, he learned guitar as a child and was encouraged to sing by his parents. After high school, he attended Georgetown College, Kentucky, where he was discovered by a scout for the noted WLS National Barn Dance in Chicago. In 1930, he joined John Lair's Cumberland Ridge Runners and returned to Kentucky with Lair in 1937, to help him establish the now famous Renfro Valley Barn Dance . He returned to Chicago in 1941, co-starred with Red Skelton in the network country radio show Avalon Time and signed with Decca Records. The first number he recorded was "Old Shep", a song he had written in 1933, about a dog he had owned as a child (in reality, the dog, sadly poisoned by a neighbour, had been a German shepherd named Hoover). The song, later recorded by many artists including Hank Snow and Elvis Presley, has become a country classic. His first chart success came in 1944, when the patriotic wartime song "Smoke On The Water" was a US pop chart number 7 and a 13-week occupant of the number 1 position in the country charts. On 17 January 1945, Foley had the distinction of making the first modern country records recorded in Nashville. In April 1946, Foley became a regular member of the Grand Ole Opry, replacing Roy Acuff as the star of NBC's prestigious Prince Albert Show . When he left Chicago for Nashville, he took with him a young guitar player called Chet Atkins, one of the many artists he helped. Red was headlining a touring Opry show when, after playing the evening shows, Foley suffered a heart attack and died in his sleep at Fort Wayne, Indiana, on 19 September 1968. This prompted Hank Jnr., seemingly the last person to speak to him, to write and record (as Luke The Drifter Jnr) the tribute narration "I Was With Red Foley (The Night He Passed Away)", which charted in November 1968. In the song, Hank Jnr. relates that after reminiscing about the problems faced by country singers such as himself and Hank Snr., Red's final words were: "I'm awful tired now, Hank, I've got to go to bed".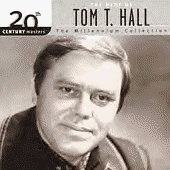 Tom T. Hall (Country/Bluegrass) Maybe you think of Tom T. Hall as the answer to the trivia question, "Who wrote 'Harper Valley P.T.A.', the 1968 smash hit for Jeannie C. Riley that spawned its own feature film and television series?" Or perhaps you listened to country radio in the 70's and remember a Tom T. Hall novelty song like "Sneaky Snake" or "I Like Beer". Be it a song or a show or a commercial or whatever, the man's name seems to conjure up dozens of associations. However, what most people don't know is that Tom T. Hall is a living legend among songwriters. He is known as Nashville's Story Teller.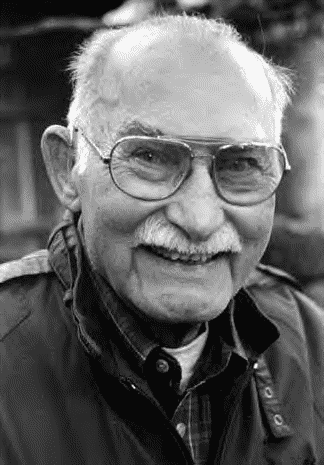 Grandpa Jones (Bluegrass/Comedy) Louis Marshall Jones was born October 20, 1913, Niagara, Henderson County, Kentucky and died February 19, 1998, Nashville, Tennessee. The youngest of the 10 children of a tobacco farmer, Jones learned guitar and first appeared on radio in 1929, soon after securing his own programme on WJW Akron, where he became known as "The Young Singer of Old Songs". He worked on the Lum and Abner radio show but in 1935 joined Bradley Kincaid's touring company. Kincaid maintained that he sounded like a grumpy old man on their early morning WBZ Boston show and nicknamed him "Grandpa". Jones adopting the name and became a permanent "Grandpa" at the tender age of 22. Between 1947 and 1951 he recorded extensively for King and after changing his style of music from ballads to up-tempo songs and comedy numbers, produced his well-known recordings of "Eight More Miles To Louisville", "Mountain Dew" and "Old Rattler", using the banjo for the first time on record on the latter. He also made some fine recordings with Merle Travis and the Delmores as the gospel group the Brown's Ferry Four. The popularity of his recordings and his Opry performances led to him joining the cast of the CBS network television show Hee-Haw in 1969, where his comedy routines with Minnie Pearl became very popular. Grandpa Jones was elected to the Country Music Hall Of Fame in 1978 and still performed regularly at the Opry. On 3 January 1998, following an Opry performance, he suffered a stroke and died a month later.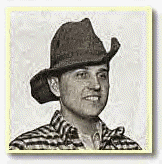 Bradley Kincaid (Country/Bluegrass) was born July 13, 1895, near Lancaster, Garrard County, Kentucky and died September 23, 1989. Kincaid grew up strumming folk tunes, mountain ballads and vaudeville songs on an old "hound dog" guitar, so-called because his father had swapped a hunting dog for it. He gained a college education in Chicago and lectured on folk music to learned societies. Kincaid described himself as a folk-singer rather than a hillbilly (a term he hated), and he became known as the Kentucky Mountain Boy. In 1926, he gained a regular spot on WLS Chicago and became the star of its National Barn Dance. Kincaid began recording in 1927 and his pseudonyms included Dan Hughey, John Carpenter and Harley Stratton. His best-known records are "Barbara Allen", "The Fatal Derby Day", "The Legend Of The Robin's Red Breast" and "The Letter Edged In Black". Like A.P. Carter of the Carter Family, he collected songs, and the individual sales of his 12 folios, My Favourite Mountain Ballads And Old Time Songs, were as many as 100,000. Sears manufactured a replica of his "hound dog" guitar. Kincaid toured extensively, and in 1936, he discovered Lewis Marshall Jones, whom he renamed Grandpa Jones. Between 1944 and 1947, Kincaid was a regular on the Grand Ole Opry and he then bought his own radio station, WWSO Springfield. He retired in 1953, although he still performed at folk festivals. In 1963, he recorded 162 songs in four days, but only six albums from that session were ever released. He died in September 1989 in Springfield, Ohio.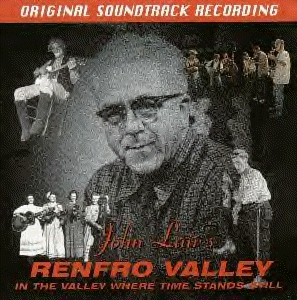 John Lair (Country/Bluegrass) was born July 1, 1894 in Livingston, Kentucky and died November 12, 1985. The Renfro Valley Barn Dance was first heard on WLW from the Cincinnati Music Hall on October 9, 1937. Later they would move the show to Dayton Ohio, at the Memorial Auditorium. In 1939 the Renfro Valley Barndance opened its doors in Renfro Valley, Kentucky. Offering live entertainment from those who truly lived in the hills of Kentucky. Such acts as Red Foley, Homer and Jethro, Coon Creek Girls, Slim Miller, Old Joe Clark and many others started their careers on the old barn stage. In the mid-fifties, Pillsbury Flour sponsored a television show on CBS, "John Lair's Renfro Valley Folks." That was followed in the sixties by the movie, ;John Lair's Renfro Valley Barndance. ' Today, over two hundred radio stations broadcast the Renfro Valley Gatherin', recorded in the valley. Even though his life centered on entertainment for over fifty years, John Lair was also an historian, writer and collector. It is said that he may very well have had the largest collection of old time country and pioneer music in the world. He wrote some five hundred songs such as, "Take Me Back To Renfro Valley", (his signature song), "Freight Train Blues ' and 'Keep Them Cold Icy Fingers Offa Me ', just to name a few. John Lair also wrote four books on rural Kentucky life and its history; as well as a book titled, 'Songs Lincoln Loved', which was well received.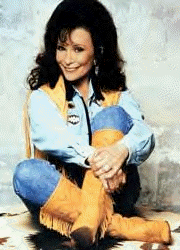 Loretta Lynn's "Coal Miner's Daughter"
Loretta Lynn (Country) started her life in Butcher Holler, Kentucky. This is coal country where her father, Ted Webb, and mother, Clara, made their home. Ted was a miner and farmer, and home was a small cabin. It was a hard life of hard work for the Webbs. One of their few pleasures was listening to the Grand Ole Opry, which was one of their few contacts with the outside world. Loretta married Doolittle Lynn (known as 'Doo' or 'Mooney') at 13 and was a mother at 14. By the age of 18, Loretta was the mother of four children. By this time, the Lynns were living in Washington state, where Doo worked to support the family. Doo encouraged Loretta to sing and bought her a guitar. He helped her find work with a local band and then with her own group. In 1960, Loretta recorded four songs for a small Canadian label named Zero Records. She and Doo mailed thousands of records to radio stations and drove across the country promoting 'Honky Tonk Girl', a song Loretta wrote. It reached No. 14 on the country charts in 1960 and won her a guest appearance at the Opry that year. Two years later she joined the Opry full time. Loretta regularly had records on Billboard's country Top Ten between 1962 and 1979 with 'Success', "Blue Kentucky Girl", and "One's on the Way", among others. Her talent and her free spirit gained a new respect for female country singers. She wrote or co-wrote many of her hits, expressing a woman's perspective in "Don't Come Home A-Drinkin' (With Lovin' On Your Mind)", "Your Squaw is on the Warpath", and others. "You're Lookin' At Country" and "Coal Miner's Daughter" were tunes about her country roots. She recorded many duets with Ernest Tubb but was most successful singing duets with Conway Twitty in the early 1970s. "After the Fire Is Gone", "Louisiana Woman, Mississippi Man", and others led the tandem to four consecutive CMA Vocal Duo of the Year Awards between 1972 and 1975. Loretta claimed the CMA Entertainer of the Year Award in 1972 and was the first woman to win this prize. Lynn's best-selling 1976 autobiography, Coal Miner's Daughter, and the 1980 hit movie by the same title increased her substantial fame. Loretta Lynn was elected to the Country Music Hall of Fame in 1988.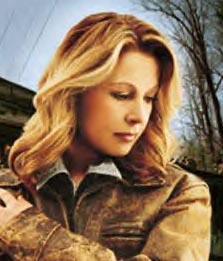 Patty Loveless "Bluegrass & White Snow"
Patty Loveless was born Patricia Ramey, January 4, 1957 in Pikeville, Kentucky, USA. The youngest of eight children, she began to write songs and sing in local venues with her brother Roger, after the family relocated to Louisville. When she was 14 years old they visited Nashville, where her singing and songwriting so impressed the Wilburn Brothers (although they felt she was not mature enough to record), that they offered her the opportunity to work on their shows. She combined singing and schooling, but in 1973, after marrying Terry Lovelace, who played drums with the Wilburns, she relocated to North Carolina, and for a time, finding the current country music did not suit her more traditional preferences, she left the music scene. During this time her marriage ended and a second marriage to a rock musician also floundered in the mid-80s, seemingly because he told her to give up country. Eventually, she resumed her singing career (even singing some rock 'n' roll in local clubs) and, using the name Loveless to avoid being confused with porn actress Linda Lovelace, she moved to Nashville in 1985. She became a staff writer at Acuff-Rose Music and her brother Roger (acting as her manager) persuaded his friend Emory Gordy Jnr., a producer and musician at MCA Records, to record her. She made her chart debut in 1985 with "Lonely Days, Lonely Nights" and her career was firmly established by her debut album, Patty Loveless, in 1987. In 1988, she had her first Top 10 successes with "If My Heart Had Windows", which George Jones had first charted 21 years earlier, and her version of Steve Earle's "A Little Bit Of Love". Loveless established herself with UK audiences by her fine performances at the 1987 and 1988 Wembley Festivals. She became a member of the Grand Ole Opry in 1988 and in 1989, she married Emory Gordy Jnr. She continued to record chart-making songs, enjoying number 1s with "Timber, I'm Falling" and "Chains". In 1992, she recorded a successful duet, "Send A Message To My Heart", with Dwight Yoakam. Also late in 1992, she underwent surgery for a leaking blood vessel on her vocal cords, and in spite of some initial concern, she soon recovered. Believing that it was time to make some changes, she reluctantly dispensed with her brother's management and moved to the Epic label. She is quoted as saying, "The goal was to find a real good style and just have a lot of fun with it". She quickly gained a number 1 country hit, "Blame It On Your Heart", which also nudged the pop charts. There seems little doubt that her vocal stylings will see her achieve continued success. Indeed, her 1995 hit, "Here I Am", reinforced her approach; adhering to her belief in hard country music, she says, "You're gonna hear that old bluegrass style, those blues licks when I sing. It's who I am - and I can't leave that behind. What we sang growing up was more old mountain style music, white man's blues, and that'll always be in there". Although she never mentioned the fact when she was struggling to make her name, she is actually a cousin of Loretta Lynn, Crystal Gayle, Peggy Sue and Jay Lee Webb. Cousin Loretta finally broke the news one day on live television. A further number 1 came in March 1996 with "You Can Feel Bad". Loveless was voted Best Female Vocalist at the 1997 Country Music Association Awards. Unfortunately, the long break between albums had perhaps dimmed her commercial appeal, and Strong Heart was a minor disappointment. This was soon rectified by the swift appearance of Mountain Soul less than a year later.
Sample of Blue Moon of Kentucky
Bill Monroe (Country ) William Smith Monroe was born to father J. B. "Buck" and mother Malissa Vandiver on September 13, 1911, on a farm in Jerusalem Ridge, just outside Rosine, Kentucky. His mother played accordion, fiddle, and harmonica, while his siblings played guitar and fiddle. After his father died when Bill was 16, he moved in with his uncle Pendleton Vandiver (later immortalized in the classic song "Uncle Pen"), who taught Bill to play guitar, mandolin, and fiddle. Perhaps because no one else in the family played it, Bill concentrated on mastering the mandolin. By 1927, Bill joined with his brothers Charlie, who played guitar, and Birch, who played fiddle, to play on broadcasts. They eventually joined with National Barn Dance as dancers. By 1930, the Monroe brothers had found success with "Kentucky Waltz", which peaked at #3, "Footprints in the Snow", which hit #5, and "Blue Grass Ramble". That same year, they secured positions on the radio in Indiana. In 1936, Bill and brother Charlie toured Iowa, Nebraska, North Carolina, and South Carolina; they also found time to cut sixty sides for RCA's Bluebird label.
Unfortunately, the brothers possessed different musical dreams and visions, and the two parted musical ways in 1938. Bill formed his original band, the Kentuckians, before settling on another name: The Blue Grass Boys.The year after the brothers split, Bill and his Blue Grass Boys joined the Grand Ole Opry, riding on their phenomenal success on the radio show with "The New Muleskinner Blues", a new version of Jimmie Rodgers's classic. During the 1940's, Bill played the Opry on the weekends and on weekdays ran a traveling tent show which included Uncle Dave Macon and DeFord Bailey. By 1946, Bill had founded a legendary band that included Lester Flatt on guitar, Earl Scruggs on banjo, and Chubby Wise on fiddle. Bill had formed a new genre of music: bluegrass.
Lester and Earl left the Blue Grass Boys in 1948 to concentrate on their own Foggy Mountain Boys. Nonetheless, through the years, Bill's band included many other great instrumentalists including Mac Wiseman, Jimmy Martin, Stringbean, Sonny Osborne, and Vassar Clements. In the meantime, Bill moved to the legendary Decca label. He had hits with "Blue Moon of Kentucky", "Uncle Pen", "What Would You Give In Exchange For Your Soul", and "I'll Meet You in Church Sunday Morning", among many others. Bill created the Bean Blossom Festival, which opened in Indiana in 1981. During his concerts, he began permitting concertgoers to bring their instruments for an informal "jam" session.
In 1970, Bill was inducted into the the Country Music Hall of Fame. Shortly after, he was inducted into the Nashville Songwriters Association International Hall of Fame (1971). In 1984, he opened the Bluegrass Hall of Fame and Museum in Nashville, Tennessee. In the years before his death, he was inducted into the Bluegrass Hall of Honor and received a Grammy Lifetime Achievement Award and the National Medal of the Arts. "Blue Moon of Kentucky" was even named the official state bluegrass song of Kentucky.
Bill Monroe died from a stroke on September 9, 1996, in Springfield, Tennessee, just four days shy of what would have been his 85th birthday. Nonetheless, the Father of Bluegrass lives on. Recently, Ricky Skaggs and other various artists released a tribute album dedicated to him entitled Big Mon. Marty Stuart, himself a protege of Flatt and Scruggs, dedicated several songs to the legendary singer, including one from his critically acclaimed album, The Pilgrim.
The Osborne Brothers (Bluegrass) were one of the most popular and innovative bluegrass groups of the post-war era, taking the music into new directions and gaining a large audience. Among their most notable achievements are their pioneering, inventive use of amplification, twin harmony banjos, steel guitars and drums -- they were the first bluegrass group to expand the genre's sonic palette in such a fashion.Bobby and Sonny Osborne were born in Hyden, KY, but raised in Dayton, OH. As children, their father instilled a love for traditional music. Bobby picked up the electic guitar as a teenager, playing in various local bands. A few years after his brother began playing the guitar, Sonny picked up the banjo. In 1949, Bobby formed a duo with banjoist Larry Richardson. The pair was hired by a West Virginian radio station and stayed in the state for a while, eventually hooking up with the Lonesome Pine Fiddlers. During their stay with the Fiddlers, they helped change the group's sound to bluegrass and made four singles for Cozy Records. Bobby Osborne left the band in the summer of 1951, forming a band with Jimmy Martin that fell apart shortly after its inception. After making a one-shot single, "New Freedom Bell", with his siblings Louise and Sonny, he joined the Stanley Brothers for a short while before being drafted into the army. Sonny spent some time with Bill Monroe's Blue Grass Boys in the early '50s, appearing on several sides on Decca Records. He also cut some covers of popular Monroe and Flatt Scruggs songs for the budget label Gateway. After Bobby returned from the Army, he and Sonny formed a band. Initially, they supported Jimmy Martin on his RCA session while they had their own spot on a Knoxville radio station. In 1956, they joined the Wheeling Jamboree; they would stay with the radio program for four years. In March of that year, Red Allen joined the brothers -- four months after his arrival, they recorded their first session for MGM records. For the next year, they stoured and recorded, steadily gaining a large audience. In the spring of 1958, "Once More" became a number 13 hit on the country charts. Its success helped push the band into the mainstream.Although their experimentation angered many bluegrass traditionalists, the Osbornes were the only bluegrass group to consistently have country hits during this time, even if all their singles were only minor hits. In 1975, the Osbornes left Decca but continued to play the Grand Ole Opry and bluegrass festivals across America.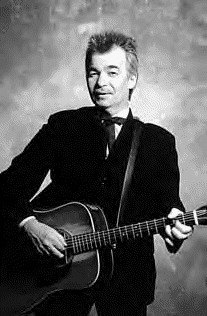 John Prine (Country) Although John Prine was not born in Kentucky he made Muhlenburg County, Kentucky famous with his hit Paradise. "Oh, Daddy, Won't you take me back to Muhlenburg County, Down by the Green River Where Paradise lays, I'm sorry my son but you're too late in askin', Mister Peabody's Coal Train done hauled it away". John Prine was born October 10, 1946, Maywood, Illinois. His grandfather had played with Merle Travis, and Prine himself started playing guitar at the age of 14. He then spent time in college, worked as a postman for five years, and spent two years in the army. He began his musical career around 1970, singing in clubs in the Chicago area. Prine signed to Atlantic Records in 1971, releasing the powerful John Prine. The album contained the excellent Vietnam veteran song "Sam Stone", featuring the wonderfully evocative line: "There's a hole in daddy's arm where all the money goes, and Jesus Christ died for nothing I suppose". Over the years Prine achieved cult status, his songs being increasingly covered by other artists such as Bonnie Raitt and John Denver. "Angel From Montgomery", "Speed Of The Sound Of Loneliness", and "Paradise", are three of his most popular songs, and he co-wrote the hit "I Just Want To Dance With You" with Roger Cook. He was inevitably given the unenviable tag of "the new Dylan' at one stage. His last album for Atlantic, Common Sense, was his first album to make the US Top 100. While the quality and content of all his work was quite excellent, his other albums had only scratched the US Top 200. After the release of 1980's Storm Windows, Prine left Asylum and set up his own Oh Boy label. He released several well-received albums on Oh Boy during the 80s, but it was 1991's "The Missing Years" which firmly re-established his name. The album enjoyed significant commercial success in the US, and won a Grammy Award for best Contemporary Folk Album, making Prine almost a household name. Prine's career has taken on a new lease of life in the 90s, and he presented Town And Country for Channel 4 Television in the UK in 1992. His songs have become increasingly quirky, and only the author could know the meaning of many of them. In keeping with his career upswing, 1995 "Lost Dogs" "Mixed Blessings" was another strong work. Since then Prine has beaten cancer, having had surgery in its earliest stage, and released the excellent "In Spite Of Ourselves".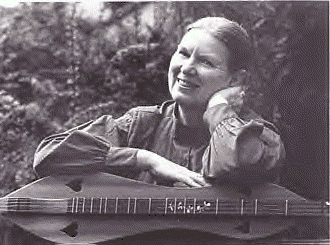 Jean Ritchie (Folk) was born in 1922 in Viper, Kentucky, into a family that considered music extremely important. In addition to singing as a means of entertainment, they had songs to accompany nearly all of their activities, from sweeping to churning to working in the fields. When they got together in the evening to sing as a family, they chose from a repertoire of more than 300 songs. Among them were hymns, traditional love songs and ballads, and popular songs by composers like Stephen Foster. As Ritchie's reputation as a folk singer grew, and she was asked to perform more formally. For folk music fans of the 1940s, Ritchie represented the ideal traditional performer: She grew up in the mountains of Kentucky, sang songs that she learned from her family, and played a little-known instrument called a dulcimer. Her friends and acquaintances include many of the most recognizable people in the contemporary folk and country music scenes. When Ritchie's album None But One won the Rolling Stone Critics' Award in 1977, her acceptance into the popular mainstream was secured. Jean Ritchie is extremely significant to traditional music in America as a performer, author, and composer. Besides launching what is usually referred to as the "dulcimer revival", she has influenced other folk and country singers, including the Judds and Tommy Makem, to explore their own musical roots. Through her professional visibility, Ritchie has been vital in awakening an interest in the music of Kentucky.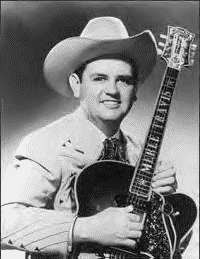 Merle Travis (Country) was born November 29, 1917 in Muhlenburg County,Kentucky and died October 20, 1983. He was the son of a tobacco farmer but by the time he was four-years-old the family had moved to Ebenezer, Kentucky, and his father was working in the mines. Travis's father often remarked, Another day older and deeper in debt, a phrase his son used in Sixteen Tons. His father played the banjo, but Travis preferred the guitar. He befriended two coal-miners, Mose Rager, and Ike Everly(father of The Everly Brothers ) who demonstrated how to use the thumb for the bass strings while playing the melody on treble strings. Travis hitched around the country, busking where he could, and in 1935, he joined the Tennessee Tomcats and from there to a better-known country group, Clayton McMichen's Georgia Wildcats. In 1937 he became a member of the Drifting Pioneers, who performed on WLW Cincinnati. In 1943 he recorded for the local King label, recording a solo as Bob McCarthy and a duet with Grandpa Jones and the Shepherd Brothers. He and Jones did many radio shows together and many years. He co-wrote Capitol's first million-seller, Smoke, Smoke, Smoke That Cigarette with Tex Williams, who recorded it. Burl Ives and Josh White were spearheading a craze for folk music, so Capitol producer, Lee Gillette, asked Travis for a 78 rpm album set of Kentucky folk songs. 'I don't know any', said Travis. ' Then write some' was the reply. His eight-song FOLK SONGS OF OUR HILLS, included Nine Pound Hammer (a rewritten folk song), Dark As A Dungeon and Sixteen Tons with spoken introductions about the coal-mining locale. Although Travis maintained that Sixteen Tons was a fun song, it dealt with the exploitation of miners in the company store. It won a gold record for Tennessee Ernie Ford in 1955 and was parodied by Spike Jones as Sixteen Tacos and by Max Bygraves as Seventeen Tons. Travis himself was also enjoying a country hit with a revival of Wildwood Flower with Hank Thompson, and he won acclaim for his portrayal of a young GI in the 1954 film FROM HERE TO ETERNITY, in which he sang Re-enlistment Blues. Travis's WALKIN THE STRINGS is a highly-regarded album of acoustic guitar solos. His style influenced Doc Watson, who called his son after him, and Chet Atkins, who did the same with his daughter. Travis was elected to the Country Music Hall Of Fame in 1977 but his drug addiction and alcoholism made him unreliable and wrecked his private life. Says Tennessee Ernie Ford, 'Merle Travis was one of the most talented men I ever met. He could write songs that would knock your hat off, but he was a chronic alcoholic and when those binges would come, there was nothing we could do about it'. Travis died in October 1983. A posthumous album of blues songs played on 12-string guitar, ROUGH, ROWDY AND BLUE, included a tune from his mentor, Mose Rager, Merry Christmas, Pretty Baby. His friend and fellow guitarist, Joe Maphis, wrote a tribute Me And Ol Merle, which concluded, 'We liked good whiskey and we loved the pretty girls, And we loved them guitars--Me and Ol' Merle.
Ricky Skaggs (Country) He's been called 'The man who put bluegrass back on the map'. Ricky Skaggs is as famous for his country western music and countless hits as he is for his current label which has done tributes to Bill Monroe with the likes of Dolly Parton, John Fogerty and Bruce Hornsby. By the ripe old age of ten, Ricky was one of the rare musicians to have performed with the artists considered the triumvirate of bluegrass...Bill Monroe, Flatt and Scruggs and the Stanley Brothers. 'I met Bill Monroe when I was six and played onstage with him by request of someone in the audience. That was the first installment into my life of music...I got infected that night. By the time I was ten, I had played on stage with my heroes...Bill when I was six, the Flatt & Scruggs television show when I was seven, and a couple of shows with the Stanley Brothers. Carter was very encouraging. He told my dad that someday I'd come out of the back seat into the front seat...almost like he was prophesizing. My mind didn't understand at the time, but my heart and spirit absorbed those things. Not that I feel like I'm in the front seat now, but I'm able to drive where I want to go!' Ricky later became a member of Ralph Stanley's Clinch Mountain Boys in 1971. Joining him was another young talent. 'Keith Whitley and I met when I was fifteen. My dad and I were playing a show and I saw this young guy my age...somehow we ended up in the basement of the school. It was just one of those meant-to be-moments. We started talking about everything and realized we both adored the Stanley Brothers. I asked if he knew a certain song...he started singing the lead and I sang the tenor. For the next three years we were inseparable.' The pair later came to Ralph's attention when Ricky and Whitley entertained a crowd waiting for the delayed Clinch Mountain Boys after the band's bus broke down enroute to the gig. Ralph was so impressed by the duo's rendition of Stanley Brothers' material that he asked them to perform again during the Clinch Mountain Boys break. It wasn't long afterwards that both young talents were a part of Ralph's band. 'I was sixteen when I graduated from high school and started working for Ralph full-time...Keith came about two weeks later. We worked with Ralph for two years solid. Tragically, Keith Whitley's life was cut short at the height of his career by alcohol poisoning in 1989. During the late seventies Ricky began his foray into country music, touring and recording with Emmylou Harris. When Rodney Crowell decided to leave Emmylou's Hot Band, Ricky was offered a permanent position in the group. 'I had been doing a lot of recording and a few live shows with Emmylou. When Rodney started his solo career, they called and Emmylou offered me a great deal. I could play mandolin, fiddle, guitar and banjo, and sing harmony...that was too cool. I wanted to take from my bluegrass days and blend it what I was learning from Emmylou. That's how Sweet Temptation came about. 'Could You Love Me One More Time' and 'I'll Take the Blame' both got a lot of airplay.' Although confident of his viability in Nashville, no one could have predicted the enormous success Ricky would find throughout the next decade. The 1981 release of Waitin' for the Sun to Shine catapulted him to the top of the country charts, where he could be found for the remainder of the decade. His dedication to the preservation and continuance of roots-country and bluegrass made him the defacto leader of the neo-traditionalist movement. Much as it is today, when Ricky went to Nashville the airwaves of commercial country radio were clogged with slick pop arrangements and urban cowboy wannabes. Although humility would make him scoff at the notion, none other than Chet Atkins credited Ricky with 'single-handedly' saving country music. Ancient Tones, the second bluegrass release by Ricky Skaggs and Kentucky Thunder concentrates on well-known classics and songs recalling the sounds of past traditions. The magic they create rekindles the fire and strength found in the music borne out of the hills of Virginia and the coal mining country of Eastern Kentucky. More importantly, Ricky recreates the material with a fresh vitality that captures the hearts of audiences young and old. Kentucky Thunder's approach is to create bluegrass that, as Bill Monroe once stated, 'brings out the old tones...ancient tones.' Big Mon is the title of the latest release from Skaggs Family Records, featuring artists from across the musical landscape coming together to pay homage to the man and his music. 'My hope is to educate more people about Monroe's music and bring it to a wider audience. I wanted it to appeal to a different market...the Hornsby crowd, John Fogerty's and the Dixie Chicks' fans. Of course, I hope the traditional bluegrass community will accept it also, but that's not the market it was necessarily intended for.' Ricky and the others who contributed to the project hope it provides the impetus for bluegrass novices to seek out the originals. He works tirelessly to promote bluegrass around the world and help his fledgling label's artists present a worthy product. His experience within the music industry allows him to be a mentor for young artists under the Ceili Records umbrella, while helping quality acts such as the Del McCoury Band earn a better living with their craft than possible in the past. No one can argue that any other artist is in a better position to be an emissary for bluegrass. Blessed by God with a loving family, prodigious talent, a wealth of musical experience, Ricky Skaggs and Kentucky Thunder are showing the world that 'Country Rocks, but Bluegrass Rules!'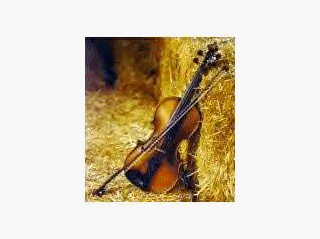 Music Links
The Kessinger Brothers-Complete Recordings
Fiddle Playing in Donegal County Ireland
Traditional Music in Donegal County, Ireland